PUBLICATION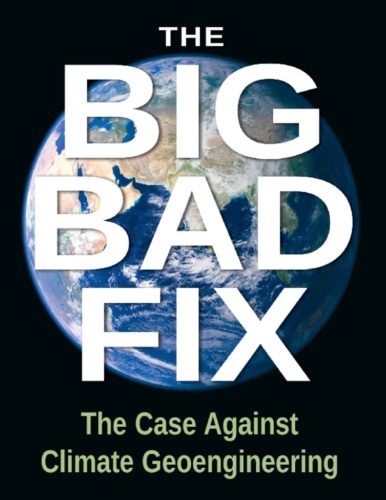 The Big Bad Fix
Comprehensive report published by ETC Group, BiofuelWatch and Heinrich Boell Foundation presenting the case against geo-engineering. As the report details, each of the proposed geoengineering technologies threatens people and ecosystems. Holistic assessments of the technologies also show that if deployed they are highly likely to worsen rather than mitigate the impacts of global warming.
More info/Summary
Conents of the report:
Chapter 1: Geoengineering: The Emperors' New Climate
A New, Environmental Empire; Empire's Techno-fixes
Does the Emperor have Clothes? Empirical Hubris in History
A "Climate of the Willing"?
The Emperors' new hose?
Safe, fair and ecologically sustainable solutions to the climate crisis
Chapter 2 – Geoengineering: The Technologies
Box: Three categories of Geoengineering as proposed by geoengineers Land: Geoengineering technologies that target terrestrial ecosystems Oceans: Geoengineering technologies that target marine ecosystems Air: Geoengineering technologies that target the atmosphere
Chapter 3 – Case Studies
Case Study I: Case Study II: Case Study III: Case Study IV: Case Study V: Case Study VI: Case Study VII: Case Study VIII:
Bioenergy with Carbon Capture and Storage
Fixing the climate with algae?
Ocean fertilization: LOHAFEX, Planktos-Haida-Oceaneos Ocean fertilization: Korea Polar Research Institute Artificial (Ocean) Upwelling in China
The SPICE experiment
SCoPEx: Stratospheric aerosol injection experiment Marine Cloud Brightening in Monterey Bay, California
Chapter 4 – The Case Against Geoengineering
Mega Scale; Unreliable and high-risk; Environmental hazards; Irreversibility; Exacerbate global power imbalances and inequity; Intergenerational injustice; Justification for climate inaction; Carbon profiteering;
Convergence of large-scale emerging technologies;
Global control; Weaponization; Treaty violation; Diversion of resources, funding and research efforts from real solutions
Chapter 5 – Who Is Behind Geoengineering?
Old fossils, new frames; The Geoclique
Cliques are not good for democracy or science
Literature and patents – who owns geoengineering?
Research on geoengineering; Multinational research projects National programs
The IPCC: normalizing geoengineering?
The Climate Merchants
War climate: military & geoengineering
Conservationists for the Earth… Manipulation
Defending Mother Earth: geoengineering and indigenous resistance
Chapter 6 – Geoengineering Governance
Is it possible to govern geoengineering? The Holy Grail of "negative emissions" A starting point; Geoengineering discussions at the UN
Transboundary nature; Research and governance – the chicken and the egg?
Is a global consensus possible? Broad societal deliberations must come first Box: A legitimate discussion on geoengineering governance must be…
Chapter 7 – The Way Forward
A radical realism; The norm is a rejection of geoengineering
Maintain and reinforce the moratoria; Stop open-air experiments
Work for a ban; Broad societal debates, broad frameworks; Hands Off Mother Earth!
Annexes
Annex 1 – Geoengineering at the United Nations
Annex 2 – Non-governmental initiatives on geoengineering governance