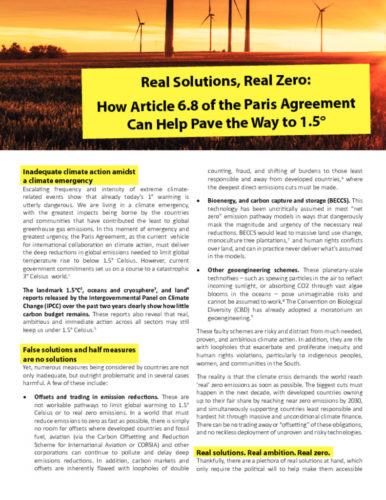 Real solutions – Real zero
This brief outlines the problems with distant net-zero 2050 goals and their loopholes with offsets and assumptions of non-existent and risky technologies. It exposes the problems of current UNFCCC negotiations on 'markets' (Article 6) and shows how real, transformative solutions can be advanced under 'non-market' negotiations (Article 6.8).
Highlights
Despite the need to limit global temperature rise to below 1.5° C, current commitments set us on a course to a catastrophic 3° C world.
Numerous measures being considered by countries are not only inadequate, but outright problematic and in several cases harmful.
These include offsets and trading in emission reductions, Bioenergy, and carbon capture and storage (BECCS) and other geoengineering schemes
Thankfully, there are a plethora of real solutions at hand.
Proposals highlight the importance of massive public investments, producer subsidies, support for workers under just transitions, outright bans and stringent standards, expansion of public democratic ownership of universal services, rapid phase out of fossil fuels, and curbing of corporate power.
More info/Summary
Brief presented by the Working Group for Real Solutions, a coalition of climate justice advocates and global policy experts committed to advancing meaningful solutions to address the climate crisis. Contributors to this briefing include: Patricia Bohland, LIFE – Education, Sustainability, Equality Niclas Hällström, WhatNext?, Rachel Rose Jackson, Corporate Accountability, Souparna Lahiri, Global Forest Coalition, Don Lehr, media and public affairs consultant, Alberto Saldamando, Indigenous Environmental Network, Martin Vilela, Plataforma Boliviana Frente al Cambio Climatico.