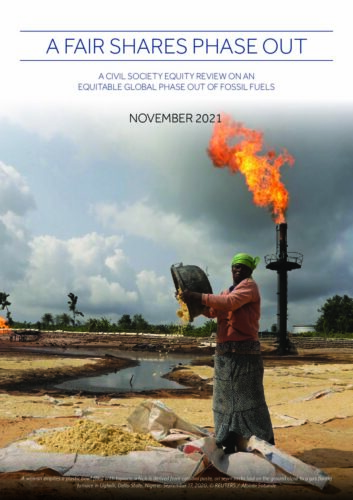 A Fair Shares Phase Out – Civil society equity review 2021
WhatNext? contributed to the drafting of the 2021 version of the CSO Equity review, which this year focuses on equity dimensions of fossil fuel production phase out.
More info/Summary
In the nearly three decades since the negotiations of the UNFCCC began, human society has failed to stop loading the atmosphere with our greenhouse gas pollution. The resultant climate crisis is hitting the most vulnerable people in less wealthy countries first and hardest. We now all face the reality of climate change – an existential threat on par with weapons of mass destruction and nuclear war. This report provides a sharp, much-needed focus on the main cause of our existential crisis – fossil fuel production. Rather than lofty emissions reduction targets decades in the future, this report focuses on the need to immediately stop the expansion of fossil fuel extraction and use, and on how a rapid phase out of existing production can be undertaken in an equitable manner. This report features thirteen country profiles to demonstrate the diversity of challenges and opportunities in addressing fossil fuel production at the national as well as international level, and highlights real world challenges and opportunities playing out in these countries. It presents an initial framework for addressing "supply-side equity" issues relating to the phaseout of fossil fuel extraction, as well as a number of possible solutions including both national and international interventions. Building on previous CSO Equity Review reports, it also includes an updated equity assessment of NDCs demonstrating how current pledges for climate action remain deeply inadequate and unjust.