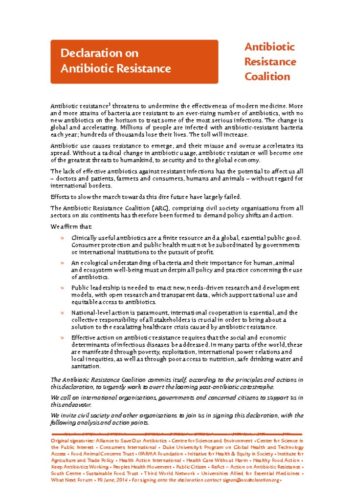 Declaration on Antibiotic Resistance
The ARC Declaration on Antibiotic Resistance was formulated in April 2014 at the founding meeting for the Antibiotic Resistance Coaltion (ARC). The declaration outlines a vision, context and thematic actions that need to be undertaken to effectively tackle this major, global threat.
Highlights
Clinically useful antibiotics are a Iinite resource and a global, essential public good. Consumer protection and public health must not be subordinated by governments or international institutions to the pursuit of proIit.
An ecological understanding of bacteria and their importance for human, animal and ecosystem well-being must underpin all policy and practice concerning the use of antibiotics.
Public leadership is needed to enact new, needs-driven research and development models, with open research and transparent data, which support rational use and equitable access to antibiotics.
National-level action is paramount, international cooperation is essential, and the collective responsibility of all stakeholders is crucial in order to bring about a solution to the escalating healthcare crisis caused by antibiotic resistance.
Effective action on antibiotic resistance requires that the social and economic determinants of infectious diseases be addressed. In many parts of the world, these are manifested through poverty, exploitation, international power relations and local inequities, as well as through poor access to nutrition, safe drinking water and sanitation.
More info/Summary
Original signatories: Alliance to Save Our Antibiotics • Centre for Science and Environment • Center for Science in the Public Interest • Consumers International • Duke University's Program on Global Health and Technology Access • Food Animal Concerns Trust • IFARMA Foundation • Initiative for Health & Equity in Society • Institute for Agriculture and Trade Policy • Health Action International • Health Care Without Harm • Healthy Food Action • Keep Antibiotics Working • Peoples Health Movement • Public Citizen • ReAct – Action on Antibiotic Resistance • South Centre • Sustainable Food Trust • Third World Network • Universities Allied for Essential Medicines • What Next Forum • 10 June, 2014.