PUBLICATION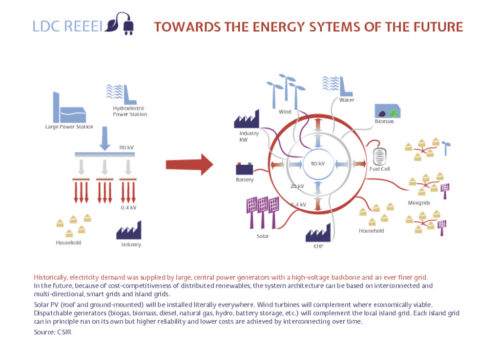 Towards the energy systems of the future
Infographic showing the old centralised, one-directional energy system giving way to the new people-centered, smart, distributed and multi-directional renewable energy systems of the future. Illustration from the LDC REEEI Framework document.
Highlights
Historically, electricity demand was supplied by large, central power generators with a high-voltage backbone and an ever finer grid.
In the future, because of cost-competitiveness of distributed renewables, the system architecture can be based on interconnected and 
 multi-directional, smart grids and island grids.
Solar PV (roof and ground-mounted) will be installed literally everywhere. Wind turbines will complement where economically viable. Dispatchable generators (biogas, biomass, diesel, natural gas, hydro, battery storage, etc.) will complement the local island grid.
Each island grid can in principle run on its own but higher reliability and lower costs are achieved by interconnecting over time.
More info/Summary