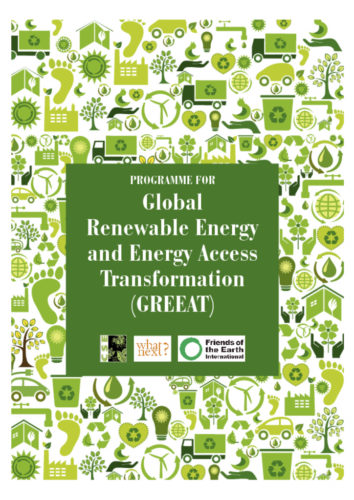 Programme for Global Renewable Energy and Energy Access Transformation (GREEAT)
Description
This vision document builds on previous work outlining a global renewable energy support programme, and takes into account ideas and deliberations from a multi-stakeholder seminar by Centre for Science and Environment (CSE) and What Next, held in Delhi 28 March-1 April, 2015. The seminar and the GREEAT programme provided basis and inspiration for the formulation of the Africa Renewable Energy Initiative (AREI) and the LDC Renewable Energy and Energy Efficiency Initiative for Sustainable Development (LDC REEEEI).
Highlights
This proposal is transformative and bold — mirroring the severity of the challenges faced by the world.
Many developing countries will need a manifold increase in per capita energy use. Plans and programmes for this must be drawn now. This requires a fundamental rethinking of the overall energy model.
A 100 per cent renewable energy system that provides energy access to all requires planning for and initiating infrastructure and grid development that can enable modern, distributed, people-centred and decentralized renewable energy power generation from a large range of sources and developers.
In the future energy system there will need to be millions of small and medium-sized entities that act as both producers and consumers of electricity
The programme targets broad-based participation, community involvement and the integration of energy efforts with development planning for local job creation, diversification of economies and thriving local development
Abstract
How could a Programme for Global Renewable Energy and Energy Access Transformation be set up? How can the international comunity enable transformation of the world's energy systems to 100% renewable energy while ensuring access to sufficient energy for all? What support mechanisms could work, how can they be set in place, and how should pay?